(Originally published May 1, 2017 in the World of Westchase Magazine)
Everyone knows Memorial Day is in May but did you know it's Global Employee and Fitness Month?
It is a national and international observance of health and fitness in the workplace. Employers and employees all over the world implement and participate in healthy activities at the workplace and within their communities. It was created by ACTIVE Life and the National Association for Health and Fitness, two non-profit organizations.
Considering how much time employees spend at work and how expensive it is to have employees out sick or battling degenerative diseases, it makes sense to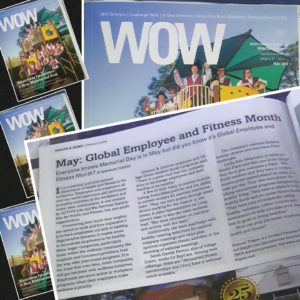 incentivize employees to be healthy. Many larger companies, particularly those within the wellness community like hospitals and insurance providers, lead the way with year-round programs. It is the hope that over time, more companies will get involved with wellness initiatives. Employees are more active in workplace programs when their employers make wellness a priority.
Johnson & Johnson employee and Village Green resident Sarah Longstreet said, "There is a great deal that our company does to encourage employees and their families to be healthy."
A few of their many incentives include having deductibles paid for and the ability to submit receipts for exercise reimbursement. They can earn points through smart device tracking for the chance to win prizes. A sales representative on Longstreet's team is also the team wellness lead. "She does education on nutrition and activity with the team."
Additionally, the team lead helps with healthy catering selections for national company meetings and helps plan optional organized fitness activities in the morning of national meetings.
Sarah Gavlak Perron, also of Village Green, works for BayCare. Among their offerings, there are "discounted fitness memberships and [they] have a wellness coach available."
The company's cafeteria features healthy choices and they have Fitbit challenges.
Linda Bals-Weisman's of WellCare Health Plans said that one of the things they do is give everyone a Fitbit. The Fords resident said they have a comprehensive point system based on steps you walk per day. They also earn points for taking educational programs designed for healthy living. They have a cafeteria with healthy foods and an onsite fitness facility. "They have tons of recipes for eating healthy, webinars, online courses and assessments to help you plan your weight loss or goals to living healthier."
How can your job better emphasize health and fitness?