(Originally published in (World of Westchase, June 2017)
If you enjoy high intensity rhythmic cardiovascular activity, chances are you will love cardio kickboxing.
The classes are usually a combination of martial arts, boxing and aerobics. It is a great way to release aggression and stress, while throwing punches and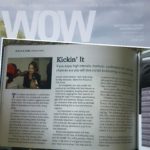 kicks, often to motivational tracks with strong beats.
Other kickboxing classes may not involve a musical backdrop but nevertheless mirror a boxer's workout. Some styles require shadow boxing while following an instructor's cues while others involve sparring with a partner. Styles may vary, but many of the basic components include jumping rope, hitting a speed-bag, and performing a combination of punches.
"I like how you feel strong (when kickboxing). I love how it combines upper body and lower body moves to enhance overall cardio fitness," said cardio kickboxing instructor, Mary Ann Kirsch of The Fords.
As a beginner, you can modify the routines by marching with less bounce as opposed to jumping, keeping kicks closer to the floor, tapping the floor instead of raising the legs if necessary, and throwing jabs with less intensity. Always, however, get clearance from your medical provider before starting this or any new exercise regimen.
It is important to start slowly and build flexibility and endurance to avoid injury. Breathing and using your core are extremely important. A good instructor will coach you throughout the workout to breathe and pay attention to your form and alignment.
Equipment requirements will vary depending on the type of kickboxing class and the facility. You will, however, want to bring a high level of energy and motivation, water and a towel. You may also be required to bring your own boxing gloves, although not every class uses gloves. Most other equipment, like punching bags, is provided.
Some gyms offer classes that include three-minute intervals with short rests just like a real boxing match.
Christine Kwan of The Vineyards used to teach cardio kickboxing in downtown Tampa. She really likes the combination of boxing with bouts of high and low intensity training and attacking the punching bag. "We punch high, middle, and low. The constant punching really burns your entire arm while also working your chest and back," said Kwan. "Your lower body is worked when you bob and weave. You and your body never know what to expect. It is a great workout!"