(Originally published in World of Westchase)
A team activity that often overlooked as an elite sport is cheerleading.
Cheerleading, however, takes the conditioning, strength, flexibility, and coordination of an athlete to perform its vigorous tumbling, dancing, and jumping.
Fords resident Karrie Hawkins began cheering at 7 years old.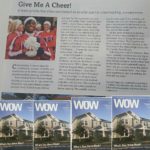 In high school she cheered for Leto. Later, Karrie founded the Colts Youth Football team with her husband, Ty. The organization has won several Tampa Bay Youth Football League (TBYFL) Grand Championships. The last four years Karrie has been head cheer coach at Alonso High School, where she has lead teams to two state runner-ups and two third place finishes. Her daughter, Kirsten, cheered for the Colts and Alonso High School. "Cheerleading is very helpful in building self-esteem. Being part of the group gives you confidence and a sense of belonging….. It keeps the kids active and in shape," she said.
Kristin O'Donnell of The Fords cheered for UCF and the Orlando Predators, an arena football team. Kristin coached in the TBYFL Cheer organization while her daughter Molly participated. She now enjoys being a "cheer Mom" from the Alonso High School bleachers.
There is a high risk of injury in the sport. O'Donnell stresses how methodically they train the kids. The coaches drill basic positions and safety procedures before stunting. "We actually practice how to catch a girl if she is falling, and reiterate over and over that the girls are never ever allowed to talk during stunts. Everyone has to work together, and trust one another like family."
As the sport continues to develop, there are more opportunities for cheer enthusiasts. Nancy Young cheered for University of Iowa. The Kingsford resident's daughter, Marrisa, cheered for the Westchase Colts, Alonso High School and the Tumble Tech Allstars.
Following her mother's footsteps, Marrisa is currently a sophomore cheering at University of Iowa. "She was in the Rose Bowl Parade and game, went to New York for the NCAA men's basketball tournament, and got to come home this year to cheer in the Outback Bowl. I had some great experiences, but it is nothing like what she has done!"