(Originally published in World of Westchase, Aug, 2017)
Enjoying yourself while traveling does not have to exclude being healthy.
You can absolutely kick back and enjoy playful meals and even decadent desserts without throwing your health to the wind. Preparation is critical to making the most of your vacation.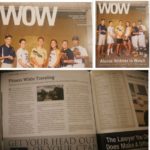 Make sure you have the right gear to accommodate your choice of activities to burn calories, including comfortable shoes and clothing.
Determine if you will have access to a grocery stores and pack accordingly.
Remember to bring medications, vitamin supplements, sunscreen and other items you may not be able to purchase easily.
Write out food restrictions or requirements in advance in the language of the place you are visiting so you can communicate easily and efficiently.
When you arrive, visit a grocery store if available. Take advantage of the refrigerator, if you have one, for drinks and food items, including leftovers. If you are staying in a location with a kitchenette, consider preparing some meals. This is a wonderful way to control healthier food preparation and accommodate your budget.
Commit to eating at least one healthy meal a day. Perhaps begin your day with a moderate, nutritious breakfast with protein and fruit. It will give you an energetic start and keep you satiated longer. Consider fresh vegetables, like a mixed-green salad, at least one a day.
Carry a reusable water bottle and stay hydrated. Drinking water can also reduce the number of calories you consume. Add a little fruit like lemon or strawberries for flavor.
Travel with zip-lock bags so you can portion snacks into individual serving sizes. Whole fruits like apples, oranges, and non-perishable items like nuts, whole grain crackers, and protein bars are great for in-between meals.
Try a variety of activities that interest you. Walking is usually an excellent method of exercising while sightseeing. You can also rent bikes, canoe, hike, climb, ski, swim or snorkel. Perhaps you would prefer to visit a fitness center or a yoga studio or complete a workout routine that can easily be done in minimal space.
Set aside enough time for adequate sleep, which will help to protect your immune system while you are traveling.
Finally, travel with your patience and sense of humor. You will have a much more enjoyable time if you are quick to give the benefit of the doubt.