I happened to see my friend Judi's, Facebook page today.  She wrote, "HELLO DECEMBER!  I am a girl who loves a challenge so this month I am challenging myself to look for and to live PEACE more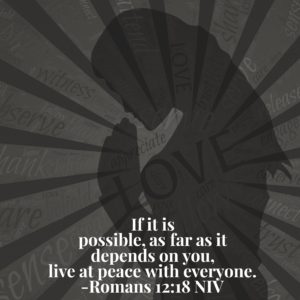 abundantly!!!  I try to do it on the regular but lately things have been trying to kill my vibe!!  Ain't having it ya'll!  How appropriate the theme of peace is at this Holy Holiday time.  Join me won't you?"
Well, I am all over that!!  This time of the year can be super challenging.  So much so, that it can get to a point that we are living just the opposite of what the season is all about.
Judi is one of my favorite people on the planet!  I meant her when I had two small babies living in Cincinnati.  I was quite overwhelmed, pregnant with my third child having moved to a third state; all in 3 years time!  I am ever grateful to Judi.  She was so loving – even at 2 AM when I dropped off my 2 babies to give birth to my youngest.  Tears rolled down my cheek leaving my 1 year old and 3 year old.  Hormones make you a bit whacko!  My husband was looking at me like I had 3 heads.  "Why are you crying?"  "Because I'm leaving my babies."
Although I had only known Judi a short time, we knew our children would be cared for by this wonderful woman as if they were her own.  At the time, Judi had 3 small boys.  Both Judi and her husband Dwayne were terrific.
Judi helped me with more than caring for my children over night.  She helped to change my perspective on things like laundry, cooking, confrontations, and my choice of books.  Even the way she always answered the phone, you knew she was smiling on the other end.  She influenced me quite a bit.  I am grateful to Judi (and her momma 'cause she taught her how to be).  It is my responsibility to pass on what I have learned to you.  It is your responsibility to pass on what you learn to others.  That is how it should go.
Well today is Day 1 of the 31 Day Dear December Christmas Challenge.
Take a breath and say, "Insert Your Name, I am choosing to look for and to live PEACE!  Then take another breath.  Repeat as often as you feel necessary during the day.
Are you in?