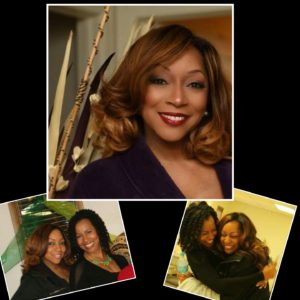 Mommy aka Beatrice P. Artis Ray sat at the dining room table smiling and writing Christmas cards. I was turning 7 in just a few weeks. It was bedtime. I kissed her and said goodnight.
Mommy gently shook me to wake me sometime during the night. She was always so beautiful when she came into my room at night. A few times I think I mistakenly thought she was the fairly godmother. Lol. This time it was probably around 4 AM. She softly said, "I am going to the hospital to bring home your little brother or sister." Springing up I said, "Sister! Bring home a sister mommy!!" (She already brought me brothers; twice!😊) I really wanted a sister this time.)
"We'll see. Mom mom will walk over shortly. You help take care of your brothers while I'm gone." Mommy hugged and kissed me and walked out of my room. I followed her to the stairs. She walked down the stairs, turned, smiled, and told me to go back to bed. "You'll have to get ready for school soon."
Instead I ran to her bedroom, looked out of the window, where I could see her and my father backing out of the driveway. She looked up, saw me, waved and smiled. I could read her lips saying, Go back to bed." I stood there until they drove away.
Three days later she walked in the door saying, "I bought your sister home, Shannon." She immediately told me to sit on the sofa. She propped a pillow under my arm so I could hold my new baby sister, Dawn Moss! The rest is history!
Happy Birthday Blessings Sissy!!❤❤❤❤❤❤