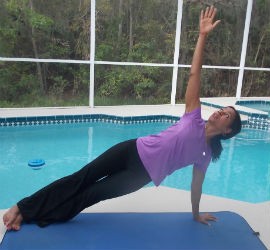 I was not always healthy. I focused, even obsessed, with all the things I could not control. With God's grace, I finally learned to focus on what I could control; me. Now, I am becoming healthier every day.
After a wonderful 10 year career with IBM, I was blessed with 3 little babies, I wanted to understand my purpose in life. From the outside, my life looked good, but instinctively I knew I did not have the joy and peace I was meant to have. I was stressed out trying to control people in my life. My intentions were good. But I realized I needed to stop focusing on other people. I finally realized I needed to work on being a better person, so I shifted my focus to myself.
That's when I began the journey of understanding my purpose. I knew that part of the development was becoming physically healthier. I had cosumed myself with my children and I needed a little time to myself. So I decided to start running. It was flexible enough to work with my schedule, it didn't require equipment, money, or depending on others. For me, it was a temporary escape for meditation and freedom.
At first, running was very difficult. I struggled to run from one light post to the next. It was a perfect metaphor for how challenged I felt. I kept at it though, conquering one light post at a time until I was able to run my first 10K in 1999. That did wonders for my self esteem.
Fast forward….
I continued to use running to challenge myself. In February 2010, I ran my first marathon. After completing the marathon, I thought back to how intense the training was. I was running 20 or more miles every week for months. In addition, I was teaching 11 group fitness classes, personal training, subcontracting with a health-group, and public speaking.
I parent my 3 young adult children, maintain a close relationship with my husband, write, volunteer, and and do housework (a little as possible). The entire time I trained I felt great and stayed healthy. I credit a large part of that success to my nutritional program.
At the same time, I was noticing how frustrated many people are because they were unable to lose weight and keep it off. I began introducing them to the system I use. Many were able lose weight and see lots of other metabolic changes as well, including decreased LDL, increased HDL, lower blood pressure, lower BMI, more energy, and less stress. They were able to accomplish the goal without going hungry.
Looking ahead, I continue to serve and help as many people as possible to find their passion and live their healthiest life!